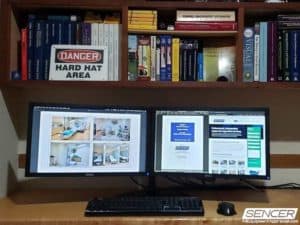 A desktop equipment appraisal is a valuation completed without a site inspection, relying instead on provided information about the subject assets. Also called a desk appraisal or an uninspected appraisal, a desktop appraisal is completed by the appraiser at their office desk.
The information provided might include assets lists of equipment, photographs, invoices, or other documents. Each appraisal is unique, so Sencer Appraisal works with our clients to determine the information required to complete the appraisal process.
The Uniform Standards of Professional Appraisal Practice (USPAP), the ethical and performance standards for the appraisal profession in the United States, does not require an inspection of the appraised assets. The standards of the American Society of Appraisers (which accredits our appraisers), those of the International Valuation Standards (used for financial reporting both inside and outside the United States), and the standards of the Internal Revenue Service also have no requirement for an inspection. The equipment appraiser is just required to disclose whether or not they inspected the equipment. The appraiser must also make sure there is enough information on the assets to develop a "credible" uninspected desktop equipment appraisal. This means Sencer Appraisal's equipment appraisers can only consider a desktop equipment appraisal if the provided information will have complete detail on the equipment.
The hurdle with the desktop equipment appraisal process is that we still need enough detail on each and every appraised asset. So while our appraisers aren't inspecting the assets, someone still needs to gather and organize the information about the assets. It is just a question of whether the appraiser is collecting the information on each asset or if the client is doing so themself. With the client doing the information gathering though, a desktop appraisal can sometimes be a more economical solution, as long as the information is provided in an organized manner. (See our desktop appraisal FAQ for details.)
To find out more about whether your valuation project is a good fit for a uninspected desktop equipment appraisal, please read our desktop equipment appraisal FAQ or give us a call at 888-473-6237.
Just a sample of some the many types of equipment from the many industries that we regularly appraise: